What is Content Marketing?
Are terms like blogging, education marketing, social media marketing, or content marketing completely lost on you? You're not alone. However, these terms reflect current marketing trends that are sweeping the internet world and starting to replace traditional forms of marketing like radio and television ads.
All of the terms mentioned above basically mean one thing: inbound marketing. This refers to advertising efforts that attract or pull customers in, rather than distracting or interrupting them like outbound marketing or traditional marketing.
Content marketing is a part of inbound marketing because it is the art of creating, publishing, and sharing content that is relevant, educational, and interesting to your target audience (or in simpler terms, the people who buy your product or service). You are creating valuable content that will attract or pull customers in.
"Content is anything that adds value to the reader's life."
— Avinash Kaushik, Google
Producing content that is useful and entraining is THE best way to capture the attention of your audience.
In contrast, traditional marketing or outbound marketing efforts are sometimes far less effective for the dollar spent.When is the last time you sat through a round of television commercials, didn't skip radio channels when an ad came on, or clicked on a pop-up ad?
So instead of wasting time and dollars on cold calling, TV or radio ads, or other forms of traditional marketing, focus on creating a content marketing strategy that allows potential customers to find you when they perform a search online for your product, service, or any other keyword relevant to your business.
Content can be anything from blog posts to videos, webinars to podcasts, social media posts, as well as offline efforts like presentations, workshops, seminars, or conference speaking.
This content, when search engine optimized (SEO), will be used to attract visitors to your website based on keyword searches. You can learn more about SEO and how it works when combined with your content marketing strategy here.
For example, if you were looking for an air conditioner, you would likely type something like this into a search engine: air conditioner installation Edmonton.
The more content you have connected to your website, the more likely it is that you will show up on the first page of a search like this.
The goal of content marketing is to attract visitors to your site, connect with them, and eventually, convert them into a loyal customer.
Why do you need content marketing?
Simply put, when you create useful, original content that informs rather than sells to the reader, it will make you THE expert in your industry.
90% of consumers find brand content useful, and 70% of consumers would rather learn about a product through content.
This truth is every company needs to have a content marketing strategy.
Why, you ask? According to Inc Magazine, "The bottom line is that smaller businesses should invest in content marketing because it can generate awareness, engagement, and leads."
Why else do you need content marketing?
Well, because cold calling sucks. TV and radio ads are expensive, not guaranteed to work, and it's difficult to track your ROI (Return on Investment).
Why is content marketing the perfect alternative to traditional marketing?
If you have well-written, relevant, and helpful content on your site, people get a chance to find you when THEY are ready.
"Content is the reason search began in the first place."
— Lee Odden, TopRank Marketing
Your website will become a go-to, trusted source of content about your product/service, which will contain dozens, and eventually hundreds, of articles that attract, inform, and compel online searchers to call you for help.
The goal of content marketing is:
To make you 

THE

 expert in your industry in your city.
To provide you with comprehensive guides and infographics that you can send to leads, prospects, customers, and power team partners via email, social media, or print.
To help you capture and organize your expertise and store it in one place.
To educate your reader about your product and service offerings.
To motivate readers into making a buying decision with you.
Content can take the following forms: an article or blog post, an audio podcast, a video describing your product or service, images, email campaigns, or infographics.
Blogging is a great starting place for most small business, as the return on investment of time and money (writers, editors and SEO) can be substantial. I worked with a client, who ran True Colors Workshops, to create and publish blog posts on a regular basis. As a result, her traffic went from less than a hundred unique visitors per month to over 4000 visitors from all across North America consistently visiting her website, consuming her content, and contacting her to request one of her workplace workshops.
This can happen for you and your business! With the right combination of content marketing and SEO strategies, you can have an influx of visitors to your website every month.
Sources: 
http://www.inc.com/laura-montini/infographic/the-shift-to-native-advertising-in-marketing.html
http://neilpatel.com/2015/11/14/comparing-the-roi-of-content-marketing-and-paid-advertising/
How do you do content marketing?
First and foremost, you need to plan and strategize. You'll also need to develop an SEO strategy to make your content marketing efforts even more effective and powerful. SEO and content marketing are two sides of the same coin – you need both to achieve maximum results.
We recommend using a content marketing calendar to help to execute and publish content every week.
"You need to create ridiculously good content – content that is useful, enjoyable and inspired."
— Ann Handley, Chief Content Officer, MarketingProfs
With a solid content marketing strategy that includes the foundations of SEO, direct response marketing, and a thorough understanding of your customers and their buying journey (creating buyer personas), you can build a magnetic engine powerhouse that gets in front of the people searching for your products and services daily.
But, all of this is moot if you are not tracking and measuring your successes or not-so-successful posts so that you can make improvements.
The development and execution of a content marketing strategy looks something like this:
Plan and strategize: who do you want to attract and who is your target audience?
Create an SEO strategy that works alongside your content marketing strategy.
Develop ideas for daily/weekly/monthly content that will attract those in your target audience.
As part of your SEO strategy, you should have a list of 50 to 100 keywords that you can begin to integrate into your blog posts.
Create a workflow to follow for each and every post you create. This will streamline the process making it easier to sit down and bust out the content!
Decide who will be writing content for you. You may need to hire a blog manager, content writers, and an internet marketing / SEO / content marketing strategist.
Write and publish good quality, original content on a regular basis.
Ensure your content is properly optimized for the popular search engines.
Promote your content via social media platforms, email marketing, or guest blogging.
Track and measure your results. Eliminate tactics that are not working, and focus on which ones are.
Currently, 70% of marketers lack a consistent or integrated content strategy (Altimeter), and only 29% of leading marketers systematically reuse and repurpose content (Curata). This means that if you have and use your content marketing strategy effectively, you can have a major step up on your competition.
What if you could drastically increase the visibility of your website simply by publishing quality content?
What if you increased the traffic to your website from hundreds to thousands? What would that do for your business? What if the leads you received were informed customers?
You can take your website from getting hundreds of visitors a month to thousands a month, just by publishing good quality content.
This happened to a client of ours who does team building workshops. When we first met with her, her website got just 55 visitors in one month. Now, her website consistently gets over 5000 visitors from all across North America coming to her website every month from the search engines. She has had her articles linked to from universities and colleges, as well as other bloggers out there who want their audience to learn something from what she has written.
With the addition of a proper SEO strategy and content marketing strategy, as well as an online form asking people to request a quote from her, she has made tens of thousands of dollars in revenue without making one cold call, running one ad, or buying any media advertising.
This can happen to your business.
With a strategic content marketing plan and SEO strategy, you too can turn your static website into a lead generating machine.
Wouldn't you like to generate leads and business while you sleep?
We'd love to help with that. Executing an effective content marketing plans is our core business and we have seen personal success as well as client success with content marketing.
Maybe you're a realtor who is struggling to stand out from the crowd?
Content marketing can help, but you have to do more and you have to be different from your competitors. If your competition is blogging, start blogging, but try making Q&A videos or podcasts to elevate your content.
Do more than your competitors, but do it better and do more often. 
You might want to elevate your content by doing in-person workshops on how to effectively stage your home to sell, doing live open houses on Periscope – whatever it is that you wish to achieve, you can work with a marketing consultant to stand out in a crowded industry online.
Once you stand out, you can use your content to prompt the reader to take an action, whether it's to make a phone call, make an online purchase, or fill out a contact form.
Another benefit of content marketing? You can delve deep into your products and services without overwhelming your reader.
Maybe you're a home builder with a specific process for building a custom home?
How will your customer know what knowledge you have and what you can do unless you tell them?
In your content you could outline the team of experts required to build a custom home, as well as the great extras or incentives you have available. Content marketing is storytelling, so tell the reader a story that reflects what your unique business can do.
This could include case studies, testimonials, DIY guides or How-to's, product reviews, and the list goes on.
Forget paid ads, billboards, and television commercials. According to Seth Godin, "Content Marketing is all the marketing that's left."
Here are some other awesome statistics about the power of content marketing:
27,000,000 pieces of content are shared each day
60% of people are inspired to seek out a product after reading about it
Website conversion rate is nearly 6x higher for content marketing adopters than it is for non-adopters
Content marketing produces three times more leads per each dollar spent
On average, companies with blogs produce 67% more leads per month
Source: 
https://apps.ioninteractive.com/site/iig/75stats
So You've Decided to Start Blogging. Now What?
Posting on your company blog is quickly becoming one of the best online marketing tools for businesses. Search engines like Google love websites that are updated regularly, have keywords that are relevant to people's online searches, and are shared by people on social media.
So having a blog on your website that is frequently updated, full of great keywords that are relevant to your business, and can be shared by anyone who reads it is the perfect way to increase your website's odds of showing up organically in searches.
But this article isn't about why you should blog. You're already there.
(If you're not fully convinced that blogging is worth your time, HubSpot's article Why Blog? The Benefits of Blogging for Business and Marketing does a fantastic job of outlining the reasons for and benefits of blogging.)
This article is about what, exactly, you should blog about.
Know What Your Audience Likes to Read About
Step 1 in any marketing venture is to know who your target audience is. The goal is to attract the RIGHT people to your website and give them what they want.
So, figure out who they are and what they want! In the marketing world, we call the different types of people you want to attract to your business "User Personas."
You probably already know a lot about your customers, but it's helpful to dive a little deeper into their details. Getting to know their pain points, desires, motivations, etc. will help you answer their questions and solve their problems with your blogging.
Having trouble identifying your personas? Here's an article on creating personas with examples.
If you know who you're writing for, and you have ideas for each stage of the buyer journey that they are in, you're almost ready to start clicking away on the keyboard. And here's a little motivation for you: You will be helping people! Your goal is to improve your customers' lives.
Improving their life can be as simple as making them smile or giving them a nugget of information they'd find useful.
Here are more ways blogs help people:
Entertaining them
Helping them do something
Teaching them something
Answering their questions
Letting them connect with you and your business emotionally
Getting them involved
Making them think deeply
Giving them something valuable to share with their friends
But the underlying reason to blog is to make sales! Your words can help guide your customers through their journey toward making a purchase.
The 3 Stages of the Buyer's Journey: What to Blog about for Each Stage
Stage 1: They're thinking about it.
When customers are in the first stage, they could be looking to get inspiration or ideas. Say they're thinking about renovating their kitchen.
They would be interested in blogs about kitchen trends, kitchen products, and before and afters of kitchen renovation projects.
Or maybe they're thinking about replacing their bathtub because their current one is old and leaking water into the basement.
If they're looking to repair or upgrade something, Stage 1 blogs should address their problems. Topics like, "How to Tell if I Need a Bathroom Upgrade?" or "Top Ten Bathtub Problems" can help bring potential customers closer to the decision to do repairs or replacements.
Here are some blog format ideas for customers in Stage 1:
Product Reviews
Inspirational or Motivational
Infographic
Stage 2: They're looking into the details.
Once your customer feels that now is the time to do the kitchen upgrade or get the repairs, they will start looking into the details. They want to know what their options are. Some customers want to know about the processes, the ins and outs, and the pros and cons of all their options.
Blogs that address Stage 2 would be customer stories that talk about projects from start to finish. Or you could blog about the tools you use to do the job they want done.
A blog about the different tiers of service would also address your customers' need for details.
Here are some blogs to help people in Stage 2:
Customer Showcase
Highlight a Product or Service
Before and After
Tools of the Trade
Industry Myths
Stage 3: They're ready to buy and deciding who to buy from.
When people are ready to make a purchase, they are in Stage 3. This is when blogs about your company, your people, and your services will help seal the deal.
For Stage 3 customers, try these blog formats to help them choose you:
AMA: Ask Me Anything
Testimonials
A series where you walk them through a process
Case Study
Posts about WHY you do things the way you do
And those examples are just a few of the dozens of blog formats you can use. Click here to find out which blog formats that work for our clients:
Top 12 Blog Formats that Bring Traffic.
Create a Content Calendar to Keep Blogging Organized
I bet that reading those blog ideas and a format to write them in made you think of some posts that would be easy for you to do. There are probably some that you might actually have fun writing (perhaps the rant? 🙂 )!
So now, take the ideas you like and plug them into a content calendar.
Your content calendar is simply a document you create that helps you plan and organize topics to write about in advance. With it, you can plan to write about similar topics together. One month can be for kitchen renovation topics, the next can be all about the customer: problems they have and how to solve them.
The ideal content calendar will outline what type of blog format you plan to use every day. It will help keep you on track. When creating the calendar, you select the format you want to write. Choose the blog format based on which stage of the buyer journey you want to talk about.
Here's an example of a content calendar that outlines the blog format a month:
| | | | | | | |
| --- | --- | --- | --- | --- | --- | --- |
| Sunday | Monday | Tuesday | Wednesday | Thursday | Friday | Saturday |
| Profile | Testimonial | List | How to | Trend | Fun | Curation |
| Feature Story | Interview | Product Review | FAQ | List | Video | AMA |
| Fun | Case Study | Event | Newsjack | How to | Infographic | Tools of the Trade |
| Guide | Best of Web | Procedure | Video | Rant | Guest Post | Series |
Look at your calendar often to help keep the topics on your mind, so that when you sit down to write, you'll have the words flowing out of you like water from a tap.
If You're not Blogging, Start Today
Take advantage of the benefits of blogging. Your pages will be found when customers search for answers to their questions. Your words will help relieve the customer service burden by taking the worry out of choosing the best place to buy.
Over time, you show people that you're a trusted expert and your website will gain authority.
Blogging is part of Nyche Marketing's Living Website package, which includes SEO, content marketing, social media, Pay Per Click advertising, and marketing automation.
So if you're not already blogging, start today!
44 ideas for blog content that you can use on your business website right away!
Source: http://blog.hubspot.com/marketing/content-marketing-plan
According to Neil Patel, a content marketing guru, these are the top 5 blog formats that attract the most attention:
What to Blog About: Top 12 Blog Formats That Work
If you look online, you'll find that articles that give you dozens–or even hundreds of what to blog about. Problogger gives you 52 blog post ideas, The Blogging Buddha has another 101 blog ideas, and Lauren over at Elle and Company shares 50 of her blog post ideas to get your creative juices flowing.
But out of all those ideas, I bet you're wondering "Which ones work?"
As a content marketer who provides blogging services for my clients, I analyze the traffic and sales that result from them, so I can tell you which ones I think work the best.
Here are the top 12 blog formats that work!
Blog about Products or Services
Blogging about a product or service you offer is a great way to boost keyword frequency on your website. It also gives your customers an idea of what they would be buying.
This type of blog post is a way for you to promote new products or push services.
Torch7, a video services company, wrote a blog about one of their products, promotional videos.
In the blog, Tina explains how she made the promotional video for the Edmonton Valley Zoo.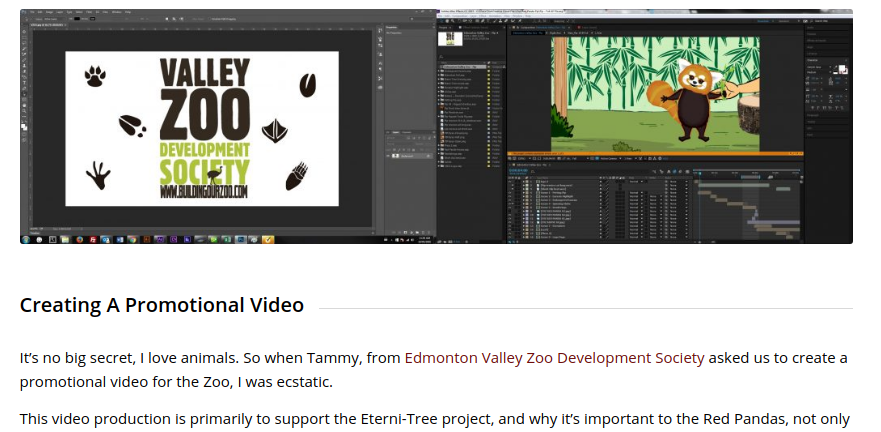 Read about 6 Blog Posts To Write To Promote a Product.
How-to Blogs
How-to blog posts are extremely popular because people find them useful!
When we have a problem, we want to know exactly how to solve it. How-to or "tutorial" blogs will walk us through the steps in a simple way.
If your business can solve someone's problem, it builds your credibility and expertise. Customers will be more likely to trust you, buy from you, and keep coming back for more.
How-to's are also a great way to endorse your products or services. For example, if your article is about a plumbing problem that needs professional service, and you provide that service, your blog could create sales!
True Colors Workshops has a blog about how to manage conflict in one's life and career, which is useful to anyone. But it also highlights the skills they teach in their workshops.
Newsjacking Blogs
Blogging about the latest news can bring traffic to your site. When you write about a current news story it shows that your business know what's goin' on.
Just be quick! You don't want to be writing about yesterday's news. Crest Roofing took advantage of the release of solar roof tiles (by famous entrepreneur Elon Musk) and roofing customers' interest in solar roofing by writing a blog called, "What's the Big Deal about Elon Musk's Solar Roof Tiles?"
Seasonal Blog Posts
Seasonal posts are great for bringing traffic to your website. Take advantage of people searching for "Easter Ideas" or summer themes by posting about seasonal topics.
If your business deals with interior design, at Easter, you could blog about Easter decorating ideas like House of J did with their blog, "Easter, Spring, Decorating….Ready, Set, Go!"
If your business is plumbing, in the spring, you could blog about Spring Plumbing Issues and How to Prevent Them, like Canuck Plumbing did.
Case Study Blogs
A case study blog post isn't a testimonial, it's much more detailed than that. It will follow a customer's journey from start to finish. Your case study should tell the story of a customer's problem and the solution you provided them.
In it, you describe their experience using real numbers and actual results.
You get to highlight how met your customer's needs and helped them reach their goals, which helps readers imagine how you could meet THEIR goals.
Case study blogs can follow a story format or an interview format, but whichever format you choose, use the customer's own words whenever possible.
Here are some more tips on writing a great case study blog post.
True Colors Workshops has a series of case studies on their blog. These blogs outline how learning about your "true colors" can help you "know what your core values and needs are and feel good about them; you can perform at your highest potential in every area of life."
They use examples of real people in real-life situations to help customers think about how they can use real colors to help in their everyday situations.
Read The Orange True Colors Case Study by clicking here.
"What is" Blogs
"What is" posts explain an idea, concept, product, or term that relates to your business. This type of blog helps your customers understand your business and what you're selling.
If your trade uses a lot of jargon or concepts that are foreign to your customers, "What is" blogs give them insight into what you do and how it will help them.
In my blog, I use this type of blog to explain SEO, Content Marketing, PPC, Social Media, Landing Pages, and more.
I've also used "What is" blogs to explain my services, like in What is a Living Website?
"Best of" Blog Posts
"Best of" blog posts help you capitalize on our need to have the best. When you're searching for a restaurant in a new town, you want to know which ones are the best, right?
That applies to everything! We want the best furniture, appliances, house cleaners, home builder, videographer, etc.
So writing "best of" blogs will bring people to your website in search of advice or info on where to go for the very best of what they're looking for.
Jennifer Woch, the interior designer behind House of J, has the inside scoop on where to get the best furniture. She shared her recommendations her blog post, Top 21 Furniture Stores I Shop For My Clients in Edmonton.
This blog gets a lot of traffic and is great for her business. People looking for furniture are also looking for interior design services.
Trends
Blame Twitter for the term, but trending is the perfect way to describe things that are popular these days. Some of us are hungry for the latest trends. Buzzfeed made an empire that capitalizes on our desire to know what's popular!
By writing a blog about what's popular in your trade, you show that you know what people want. It tells people that your business is current and credible.
Custom home builder, Monique, from Canterbury Homes Inc. shows that she's got her finger on the pulse by blogging about The 2017 Trends for Home Style and Interior Design.
Blogs about the Local Area
Show your customers that you care about your community by blogging about it! If you donate to a local charity, write about it!
Blogs about local events are highly shareable, which raises brand awareness for your business.
Canuck Plumbing provides plumbing services in Windermere, Edmonton. By writing a blog about the area, Windermere, Edmonton, AB: Where to go for Fun, Food, and Shopping, people will see Canuck Plumbing's blog when they search "Windermere" and think of them when they need a plumber.
Guides are a blog format that WORKS!
Show your customers that you are an expert in your field by writing a guide. In a guide, you can get in-depth about your subject.
Guides help your customers out, giving them something free, like knowledge and advice. People also like to share guides with their friends if they find them helpful or interesting.
Krinkle Klean's Guide to Clean the Kitchen is a great example of a blog post that shows they are expert cleaners and that people find helpful.
Problem and Solution Blog Posts
Problem and solution posts are a type of post where you identify a problem that your customers have, then give them the solution.
You tell them exactly how to solve their problem, which could involve your products or services.
In Kingstree Plumbing's blog, 5 Home Water Problems and How to Fix Them. They identify hard water as a problem and explain why a water softener (which they sell and install) is the perfect solution.
Video Blogs
It's such a sign of the times that videos are now the medium we expose ourselves to most. Facebook, Twitter, Google.com, and YouTube are 4 most popular websites on the internet, and all of them cater to video posts.
A trend we're seeing in blogging is that we like videos to explain and entertain us more than we like reading a blog.
Videos are also more shareable and less time consuming than reading. They're so popular that even news websites like CBC, Global, and The Huffington Post are publishing their articles in video form rather than the traditional written format.
Nyche Marketing has a video blog that explains our online marketing services. You'll see that it's just a video without any text above or below it.
And on that note, if you haven't already started blogging, start today. No matter what your business is, you can write blogs that will bring traffic to your website, increase your credibility and the likelihood that your website will show up organically in searches.
Maybe you want to blog, but you don't have the time. Nyche Marketing can help you with ideas, creating a content plan and calendar, and we can also provide blogging services.
Keep this infographic handy when planning your content marketing strategy:
Part of your strategy should include the key performance indicators you need to keep track of to ensure your content marketing goals are being met. The metrics below are a great set for you to measure when reviewing your goals every month:

source: http://www.curata.com/blog/content-marketing-measurement-29-essential-metrics-infographic/
Here are some other content marketing guides from around the web!
Are you looking to implement content marketing for your business? These helpful guides below can help you determine the best course of action to take before beginning your blogging blitz!