Here's something a little different. Normally this blog is all about what we specialize in: SEO, content marketing, marketing automation, and web design.
But we're not always working. Believe it or not, sometimes we step away from the computer, put down the phone, and do something fun! Fort McMurray is home for one of Nyche's writers, so she put together a guide of fun things to do in Fort McMurray that you might find useful.
Fort McMurray Restaurants
Looking for somewhere to eat in Fort McMurray? There are over 40 restaurants, including the usual fast food fare like Wendy's and KFC and fine dining establishments like Atmosfere, which is a lovely place to bring the spouse on a special.
If you check out the restaurant listings on Zomato, you'll find that the restaurant scene is dominated by pubs, donair shops, and pizza places.
For pizza and donairs, the local favourites are Jomaa's, Cosmo's, and Hu's Pizza and Donairs.
And if you're looking for east coast style pizza (cheap, tasty, and huge) grab a slice from the PetroCan gas station in Gregoire.
For crowdsourced recommendations, check out the Top 10 Places to Eat in Fort McMurray from Trip Advisor  or Yelp.
Here are a few highlights:
This place is a gem. It nails the microbrew restaurant niche. They've created a warm space with a casual atmosphere, which makes it a great place to unwind after work or on a date.
They take risks with the food by taking average pub food up a level. You'll see things like "Rustic Elk Meatloaf," and charcuterie boards on the menu.
Oh, and the beer is delicious!
Kozy Korner
This place is such a local hotspot, they don't even have a website! If you're looking for a classic diner food, stop in at the Kozy Korner.
The EVP up in Timberlea is an incredibly popular place to be in Fort McMurray. The menu is full of delicious comfort food favourites like fish and chips, shepherd's pie, steaks, and nachos, and they have live music pretty often.
If you're looking for a tasty place to eat dinner, go on a weeknight. If you're looking for a party, hit up the EVP on the weekend!
Don't worry, they let you in even if you're not from Newfoundland! In addition to being a restaurant, they host events and live music. The menu features classic Canadian pub food with East Coast favourites like poutine with dressing, jigs dinner, and fish cakes.
The South St. Burger is new in town, but they're proving to be a delicious addition. Nothing beats a big, juicy burger after a long shift.
Those are just a couple recommendations from us. For a complete list of restaurants, check out Yelp or Zomato.
Dancing in Fort McMurray
If you're really in the mood, many of the bars in Fort Mac have dance floors, but there are a few places where you can really let loose.
One is Club NV, which plays EDM and caters to the younger crowd. You'll find a different, slightly more mature crowd shakin' their booties at the Casino when live bands play.
If you're into the East Coast scene, you'll probably enjoy dancing at The Newfoundlander's Club, which holds dances. Check their Facebook page for details.
The Fort McMurray Bar Scene
There are a lot of bars in Fort McMurray, but a few stand out as local favourites:
The Black Horse
The Black Horse reminds me of Cheers: the neighbourhood pub where regulars hang out, playing darts, watching the game, shooting pool, and drinking beer.
They even have weekly karaoke and the occasional band. It's a great choice for a low-key drink with the buddies.
Sociables
Caters to a variety of scenes. They'll have metal shows, folk music, and edm music on a regular basis.
Try the wings!
Jag's (AKA the Jaguar Lounge)
Small, hole-in-the wall bar with popular music choices. Great place to relax with friends.
Fort Mac Fishing
There's great fishing around Fort McMurray. You can pick up a fishing license at Chow's Variety Store or Canadian Tire, load up on bait and tackle, and drive out to one of the many local fishin' holes.
You can look forward to seeing Pike, Walleye, Goldeye, Burbot, Mountain Whitefish, Arctic Grayling, Trout, Yellow Perch, and Sucker on your hook. Click here for the Alberta Guide to Sportfishing Regulations to see what you can keep.
Places to Fish in Fort Mac
Gregoire Lake is the big, family friendly, full-amenities place to go fishing because there's a provincial park and campground. Keep up on what anglers are reeling in from Gregoire Lake by reading the ifish forum.
You can also fish the Athabasca River. A popular place to fish from shore is at The Bridge to Nowhere: Head north from Fort McMurray for about 30 minutes and take your first right just after the Peter Lougheed Bridge.
For more places to fish in Fort Mcmurray, check out ifishAlberta. It has a directory of Alberta's lakes with forums where people can share the conditions and their catches.
If you're looking for a full-on fishing adventure, you might be interested in the Fly-in lodges, fishing tours, and wilderness adventures. Visit Fort McMurray Tourism's Wood Buffalo Fishing page for more details.
Go on an ATV adventure in Fort Mac
Quading is a popular summer pastime in Fort McMurray. As soon as the weather starts getting warm, the ATV's come out of storage and people head for the trails to get dirty!
The Richardson River Sand Dunes are a special treat for ATV enthusiasts, because you can actually ride on the dunes and ride to remote campsites for a truly wild experience (read up on bear and cougar safety here!).
Fort McMurray Tours and Museums
Fort McMurray has an incredibly rich and interesting history. You can learn about important discoveries and technology at the Oilsands Discovery Centre, or take a tour of Suncor.
The Heritage Village is that special type of museum that's like a living time capsule of how things were back in the day. It hasn't opened since the fire, but expect it to be up and running again soon.
Fort McMurray has five rivers that flow through it, which made it a shipping hub in the past. Tour the Heritage Shipyard to see the ships and shops that used to service the Fort McMurray area.
Swimming in Fort McMurray
The Syncrude Aquatic Centre is amazing as far as pools go. It has everything! Hot tub with reclining bubble chairs, sauna, steam room, three kids pools, two slides, and a lazy river.
In the summer, you can also swim in Gregoire Lake, just south of town.
World Class Golfing in Fort McMurray
For the golf enthusiast, The Miskanaw Golf Course is in the heart of town on Mac Island. The course was designed by a golfing legend. It's a high-quality, well-maintained course that will challenge you.
Book a green time, join a tournament, or whack a few balls at their driving range. See their website for more details.
Go to the Movies
Unlike the massive, modern recreation facilities at Mac Island, the theatre in Fort Mac is … "quaint." Modest looks aside, the Landmark Cinemas is still the only place in town to catch a flick.
Shopping in Fort Mac
For specific stores like organic food stores, supplement stores, jewelers, butchers, and the like, I would suggest Googling up whatever you're trying to buy because there are niche stores that will probably sell what you want.
The casual shopper will find clothing chains at Peter Pond Mall Shopping Centre, but if you're looking for furniture, electronics… or maybe just a good deal, join the [Controversial Humor] Fort McMurray Everything Goes Facebook group, which has tens of thousands of members.
Fort McMurray Parks
Fort McMurray is full of parks! There are all kinds of places to get outside and play:
Playgrounds
Spray parks
Soccer fields
Skateboard parks
Running tracks
Baseball diamonds
Football/Rugby fields
Find out which parks are near you by checking the full park listings and maps.
Bring your dogs to one of Fort McMurray's dog parks:
Visit the Vista Ridge All Seasons Park for snow sports (skiing and snowboarding) in the winter and for aerial adventures in the summer.
WildPlay (in Vista Ridge) is an obstacle course in the forest where you can balance on tightropes, swing in the trees, and glide down ziplines!
Definitely one for the bucket list!
Outdoor Skating in Fort McMurray
Slap on those skates this winter and head to one of Fort McMurray's five boarded outdoor skating rinks.
Here are their locations:
Abasand: Next to Father Beauregard School on Athabasca Ave
Waterways: Bulyea Ave
Thickwood: On Signal Road across from the medical centre
Timberlea – Brett Drive next to Timberlea School
Timberlea – In the Timberlea Syncrude Athletic Park
Hike the Trails in Fort Mac
Hiking is one of the best ways to enjoy the outdoors: you choose the pace that's comfortable for you and make your way through nature; exploring as you earn your lunch. In Fort McMurray there are trails that wind through boreal forest land in the Timberlea area, called Birchwood Trails.
Pick your path by consulting the Birchwood Trail map.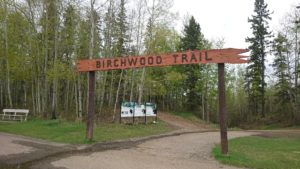 Go Camping near Fort McMurray
Love camping? Enjoy the wilderness, go fishing, explore trails, and experience the outdoors at one of the campgrounds in the area.
For typical tent and backpack campgrounds, these three are popular:
Gregoire Lake
Hanging Stone Provincial Rec Area
Tower Road Campground
*Remember: Overnight camping and open fires in the wild are strictly forbidden!
Paint Nite in Fort McMurray
With so many Paint Nites around these days, it's clear that this type of event isn't just a fad. Paint Nite is here to stay!
Find out where the next Paint Nite in Fort McMurray is by checking out the official website.
Fort McMurray Events
Every municipality has its yearly events that the community can look forward to seeing every year. Fort McMurray is no exception.
Conditions permitting, you can expect to see these events:
Home and Leisure Trade Shows
Santa Claus Parade
Canada Day Parade
New Year's Eve Fireworks
For current events, visit the Fort McMurray Community Calendar.
Festivals in the Fort McMurray Area
The 2017 festival season hasn't started yet, but here are some of the festivals you can attend this year:
Sustainival is a completely green-powered festival. Trade your cash for tickets to get onto rides, play games for prizes, and eat greasy (though potentially organic?) carnival food!
If you ever find yourself at karaoke night in a Fort Mac pub, you'll quickly find out that the people here LOVE country. Take in some live country with fellow fans this year at the annual Wild West Country Music Festival.
It's no secret that half the population of the maritimes (or more?) live here in Fort Mac. That's probably why the biggest festival of the year is the East Coast Garden Party!
You'll see live music, ride carnival rides and eat traditional east coast food and beer.
These folks know how to have a good time!
The Comedy Scene in Fort Mac
You might catch the odd comedy act at an open mic at one of Fort McMurray's bars, but the more reliable option for good laughs is Bailey's Yuk Yuks. Care for a wager?
Gambling in Fort McMurray
Got some extra money burning a hole in your pocket? Try your luck at the Boomtown Casino. The staff is friendly and their live bands usually bring in their own crowd.
You can bet on horse racing at Tavern on Main while you eat some tasty pub food and mingle with the locals.
I can't quite recommend Bingo at the Legion because it hasn't been happening for a few years now. But if it ever does start up again, the Legion is where it'll be.
Have Fun in Fort McMurray!
Hopefully now you have a couple of ideas for what to do this weekend in Fort McMurray. Or at least a list of resources for the future. (It's not winter yet, so you might want to bookmark this article for skating rink locations.)
Did we miss anything?
Tell us what like to do for fun in Fort Mac in the comments!
http://nychemarketing.com/wp-content/uploads/2017/05/gregoire-lake-2.jpg
3366
5984
nyche marketing
http://nychemarketing.com/wp-content/uploads/2015/11/logo.png
nyche marketing
2017-06-09 03:27:02
2018-06-21 03:57:17
What to do in Fort McMurray